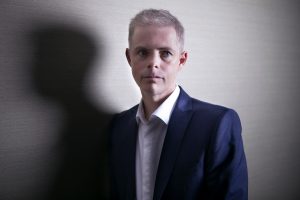 Oliver Davis Oliver Davis graduated from the Royal Academy of Music in 1994 and has since composed numerous concertos, ballet scores, albums, soundtracks and television scores working with many of the major London orchestras.
Davis' debut album Flight, recorded by the London Symphony Orchestra with soloist Kerenza Peacock, was released in March 2015 and quickly rose to number 2 in the UK Specialist Classical Charts with 5-star reviews in both the UK and US. In addition, it was chosen as Featured Album of the Week on Classic FM and was broadcast daily on the station. Several pieces from the album Flight were used for a ballet choreographed by Ma Cong for the Tulsa Ballet Company in Tulsa, Oklahoma.
After the release of Flight came Davis' second album Seasons in October 2015. This album featured his work Anno, a contemporary take on Vivaldi's Quattro Stagioni. This album also charted in the UK top 10 and was Album of the Week on Classic FM and in the Mail on Sunday. Following this release came Dance, recorded by the Royal Philharmonic Orchestra at Abbey Road studios and released in September 2016. This too became Classic FM's Album of the Week and featured in their 'Best of 2016' show. Various pieces from Dance and Flight were used to create the ballet Dance Odyssey, choreographed by Peter Walker and performed by New York City Ballet. Following the ballet's premiere in January 2018, The New York Times described the music as 'charming, lyrical, Arcadian'.
Davis' fourth album, Liberty, was released in February 2018. This reached number 1 in the iTunes Classical Chart and was also Classic FM's Album of the Week. Pieces from Liberty formed a new ballet Bacchus, choreographed by Matthew Neenan for Pacific Northwest Ballet and premiered in March 2019. Davis' next album, Arcadia, featured a piano piece of the same name, which on its release achieved over a million streams on Apple Music. The album reached number 1 in the iTunes Classical Charts, number 4 in the UK Classical Charts and 15 in the US Billboard Charts. Simon Mayo chose to feature Arcadia as Scala Radio's Album of the Weekend, and interviewed Davis live on his show.
Also in 2019, Davis and choreographer Edwaard Liang worked together to create Constant Light, a ballet for Ballet West's Choreographic Festival which premiered in May in Salt Lake City, Utah. In September 2019, they premiered Lineage at New York City Ballet's prestigious Fall Fashion Gala, which featured costumes designed by fashion icon Anna Sui. Davis and Liang are currently collaborating on a new work to be premiered by Pacific Northwest Ballet.
Davis' latest album, Solace, was made during the lockdown of 2020. He explains how creating Solace differed significantly from the production of his other recordings: 'I had originally planned the production of my sixth album in a similar way to previous albums, a method that had to be abandoned when social restrictions were enforced at the onset of the pandemic. In addition to amending the production process, most of the repertoire I had originally planned to record was also going to need to be replaced owing to key artists and studios unable to be involved. It presented a huge logistical and creative problem, but also an interesting challenge. Would it be possible to create an album, largely orchestral based, without being in the same room as the orchestra and conductor? The only way this could be achieved was by recording the orchestra and many of the soloists remotely. During the lockdown period I had briefly worked remotely with the Budapest Scoring Orchestra, and that experience gave me the confidence to tackle this project. I decided to create a template by recording all the principal elements first. I recorded all the key orchestral parts individually with five musicians and this enabled me to have enough control of these parts to then create a master chamber music version of all the orchestral pieces on the album. I then mapped out the exact tempos and dynamics in the orchestral scores and only then did I record the Budapest Scoring Orchestra on top of this chamber recording. In addition, many of the pieces were written for soloists who were based abroad and were now unable to visit the UK as planned. I therefore had to record their parts remotely and incorporate those recordings into the mix. I achieved this using the internet and recording studios and engineers all over the world, recording a violinist in Los Angeles, a piano duo in The Netherlands, a guitarist in Argentina and the Budapest Scoring Orchestra conducted by Péter Illényi in Budapest. This painstaking process became a labour of love and has led me to appreciate the many benefits of being in the same room as the artist!'